Cosmamania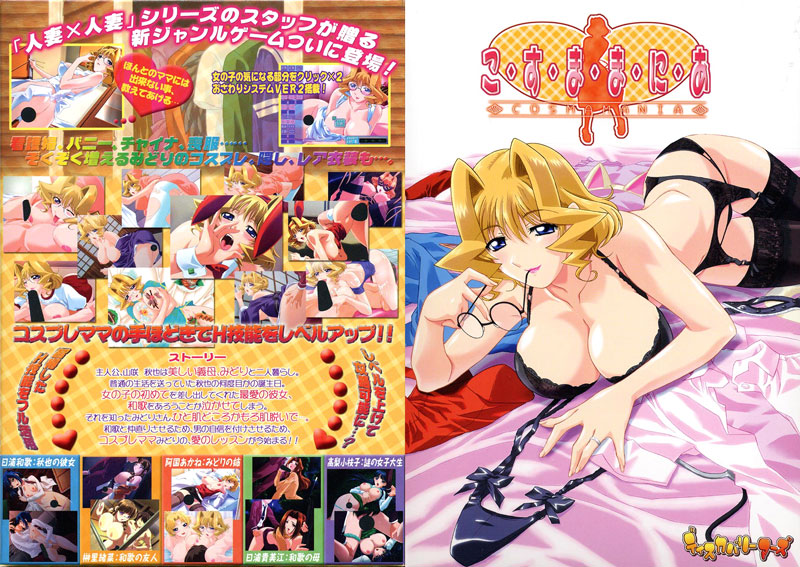 STORY
Shuya Yamazaki, the protagonist, is a highschool student. His mother died when he was a kid so his father, a famous archeologist and adventurer, remarried the beautiful maid of the family, Midori.
Shuya has a girlfriend, Wakaba, but they never had sex. One day, he is coming back to home after school when he sees his father and his mother-in-law having sex in the living room! Shocked, he runs to his bedroom.
In the next day is Wakaba's birthday. As a gift she wants to finally have sex with Shuya. But because he was still shocked for what he saw the day before, he couldn't do it, making her mad.
Depressed, Shuya tries to talk with his father, but he traveled again in other of his adventures. Without choice, he asks Midori advice.
"Maybe you don't have confidence and experience enough with women…" – she says.
And so, Midori decides to train her son-in-law in the arts of sex an teach him how to satisfy a woman…
Source: https://vndb.org/v2176
OPENING
–
GAME INFO
Japanese: こすままにあ
Romaji: Cosmamania
Release date: 22/09/2005
Official Website
DL Demo
Walkthrough
SHOTS