Gakuen Sei Senshi Sailor Knight 2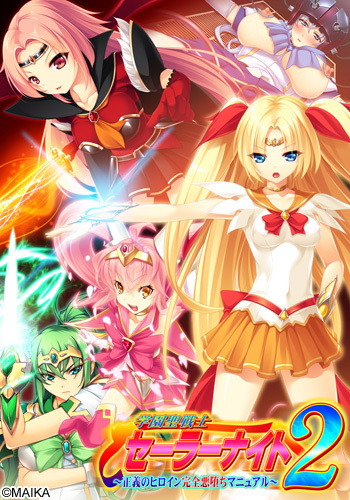 STORY
Present day Japan: Unknown lifeforms called "Mouma" appear.
Conventional weaponry is useless against them; the only countermeasure available is the "Sailor Knight", female warriors of justice protected by holy gemstones.
An ordinary student, Utsuroi Hayata, awakens as the "King of the Mouma" with the power to manipulate illusions.
His terrifying brainwashing through sexual pleasure eventually compels "Sailor Star Ruby" to swear absolute allegiance to him, becoming "Sailor Mouma Princess".
Mouma Princess's evil powers drive "Sailor Sapphire" and "Sailor Emerald" to the brink of defeat, but new Sailor Knights, "Sailor Goldheart" and "Sailor Garnet" appear and rescue Sapphire and Emerald.
The newcomers lay down the gauntlet to the Mouma King. However he is far from cornered and laughs off their challenge, all the while plotting even more despicable schemes of sexual entrapment to ensnare the honourable Sailor Knights…
[loosely translated from official product synopsis]
Source: https://vndb.org/v13629
OPENING
http://erogetrailers.com/video/11075
GAME INFO
Japanese: 学園聖戦士セーラーナイト2
Romaji: Gakuen Sei Senshi Sailor Knight 2
Release date: 24/01/2014
Walkthrough
Save File
SHOTS