Hitozuma Suki ga Toumei Ningen ni Nattara?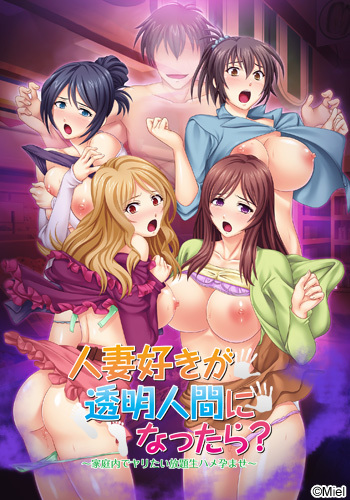 STORY
When a man who covets his neighbors' wives suddenly turns invisible… there's only one thing to do!
Countless days of yearning end with a romping r*pefest from house to house. Could he be leaving invisible juniors inside them?
The motherly type, the super hot trophy wife, the strong willed one who nurtures others…
all are on the list of fantasy women the unattractive protagonist has always wanted to bang.
And now he can! The housewives go about their daily business while he bangs away.
They know someone is inside them — it feels so good — but they'll never know WHO!
The sex doesn't stop just because someone's pregnant!
Source: http://vndb.org/v14692
OPENING
–
GAME INFO
Japanese: 人妻好きが透明人間になったら? ~家庭内でヤリたい放題生ハメ孕ませ~
Romaji: Hitozuma Suki ga Toumei Ningen ni Nattara? ~Kateinai de Yaritai Houdai Nama Hame Haramase~
Release date: 21/03/2014
DL Demo
Walkthrough
Save File
SHOTS