Hitozuma wa Moto Mahou Shoujo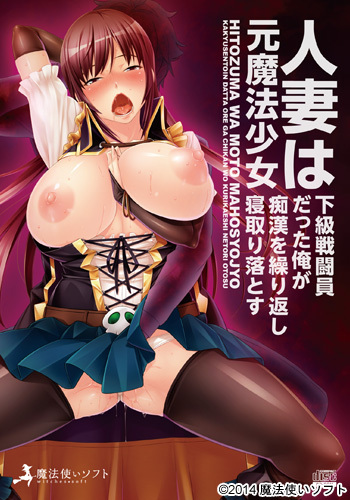 STORY
Who know!? Happily married housewife Yuki Sonozaki used to be a crime-fighting magical girl!
Back in her youth she cast spells and saved worlds as Emerald of bishoujo team "Justice Pirates".
15 years after they destroyed the stronghold of an evil organization, the Mad Professor's minions have tracked each girl down for one purpose: sexual revenge!
Yuki (a.k.a. Emerald) gets disgraced right in front of her husband and son, multi-orgasms on the train, porno fucks in ero cosplay against her will…
In the end she betrays her oath in favor of total cock slavery!
Source: http://vndb.org/v14628
OPENING
GAME INFO
Japanese: 人妻は元魔法少女 ~下級戦闘員だった俺が痴漢を繰り返し寝取り落とす~
Romaji: Hitozuma wa Moto Mahou Shoujo ~Kakyuu Sentouin Datta Ore ga Chikan wo Kurikaeshi Netori Otosu~
Release date: 14/02/2014
DL Demo
Walkthrough
Save File
SHOTS