Kami Machi Shoujo wa Mou Kaerenai ~Iu Toori ni Shimasu kara, Kami-sama Mou Ouchi e Kaeshite…~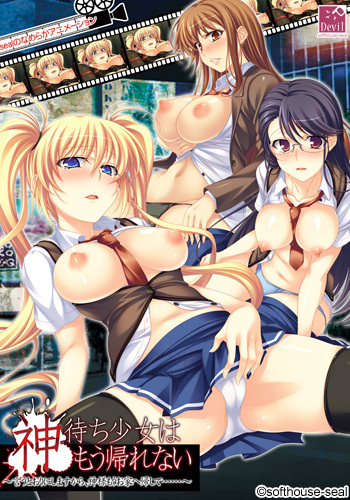 STORY
A predator is targeting young girls on a welfare forum…
* Story
The Kamimachi Bulletin Board…
A place where girls in need can ask for help.
At least, it should have been…
Girls abused at home who run away…
Girls in desperate need of money…
Girls willing to trade favors for a moment of ill-gotten pleasure…
For a predator the forum is easy pickings.
In spite of the name, there's no god waiting here. Not for these girls.
Only him… a wolf in sheep's clothing. A false savior.
It is the ideal hunting ground.
* The joy of betraying and corrupting naive teenagers!
Stalk your unwitting prey — teens who trust your deceptive
kindness all the way to her own demise!!!
The devil knows he can catch more flies with honey.
Source: https://vndb.org/v14935
OPENING
–
GAME INFO
Japanese: 神待ち少女はもう帰れない ~言うとおりにしますから、神様もうお家へ帰して……~
Romaji: Kami Machi Shoujo wa Mou Kaerenai ~Iu Toori ni Shimasu kara, Kami-sama Mou Ouchi e Kaeshite…~
Release date: 25/04/2014
Walkthrough
SHOTS