Kyokon de Nama Hame Ou ni Nareru Gakuen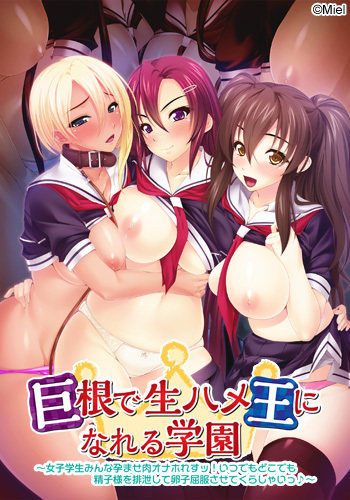 STORY
It's every teenage boy's dream! The entire school is a harem of horny girls who'll happily take a jizzload!
The instant they pulled down his pants, the world changed.
The protagonist was being bullied at the student council meeting when suddenly — flash!
His exposed penis transfixed all the girls. He had his choice of any girl, but focused on
three in particular: the class president, the fencing club girl, and his angelic kohai (junior).
Part revenge tale, part sex spree, The School of Hard C*cks boasts sex anytime anywhere, in a variety of outfits!
OPENING
–
GAME INFO
Japanese: 巨根で生ハメ王になれる学園 ~女子学生みんな孕ませ肉オナホれすッ!いつでもどこでも精子様を排泄して卵子屈服させてくらしゃいっ♪~
Romaji: Kyokon de Nama Hame Ou ni Nareru Gakuen ~Joshi Gakusei Minna Haramase Niku Onaholes! Itsu de mo Doko de mo Seishi-sama wo Haisetsu Shite Ranshi Kuppuku Sasete Kurashai♪~
Release date: 31/01/2014
DL Demo
Walkthrough
Save File
SHOTS