LILITH-IZM02 – Nakadashi Haramase hen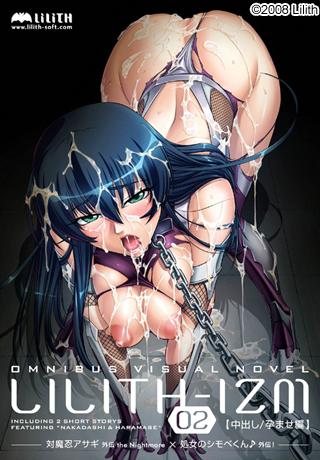 STORY
LILITH-IZM Vol.2!
Even more revamped from the Vol.1 – Fellatio version.
* This time, the theme is "Internal cum and Impregnate"!
The creator, full of confidence, is so passionate and is eager to make a story!
* "Taimanin Asagi outer story the Nightmare"
(Original story: Sasa@ x Flame, Scenario: ZEQU and Original Illustration: Kagami )
I have included story that did not make it into Taimanin Asagi and Taimanin Asagi 2.
"Please enjoy the Asagi slave slut mini-mini-system", said Mr. Sasa @.
Mortal Taimanin and Asagi finally fell into a slavery….and forced to be impregnated…!?
Unexpected another story awaits!
* "Virgin boy Shimobe-kun" Story!"
(Original story: Matsumoto Ryu, Scenario: Matsumoto Ryu and Original Illustration: Ryuki Yumi)
"Again, the main character was captured. It was all because of Nanaori, Yuna and Haruho's misunderstanding…
New comical, impregnate story. Please be excited." said Mr. EDEN.
"Let's Lose Virginity this Summer Plan" leads Shimobe-kun a difficult situation!? "You must make us pregnant!"
Source: https://vndb.org/v1495
OPENING
–
GAME INFO
Japanese: LILITH-IZM02 ~中出し孕ませ編~
Romaji: LILITH-IZM02 ~Nakadashi Haramase hen~
Release date: 29/08/2008
DL Demo
Walkthrough
SHOTS