LILITH-IZM07 – Ore no Pet hen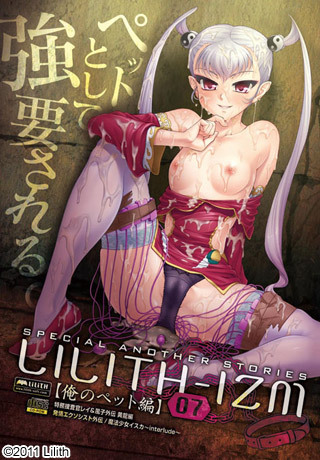 STORY
This is the 7th volume of LILITH-IZM! The theme is "Pet of my own"!!
Heroines from their popular games are done this and that as a pet!
A dog-walking is an option for all girls. Train up Isca, Setsuna, Yozora, Koryu and other girls with strict discipline!
* Magical Girl Isca – interlude -*
Isca has become a "Witch Hunter-Killer."
Now in this product, Setsuna and Yozora, 2 girls from the comic version of "Magical Girl Isca – after school.-" join the battle!
Strong emotion, fear and sexual pleasure above all attack the girls because of their form of a small girl!
* Special Agent Rei & Fuko: Another Story – Koryu Edition -*
Koryu has failed to capture and brainwash Rei and Fuko, and lost her Shien who served her as her right hand.
Her men rebel against her and gets violated by the tentacle monsters that she created by herself.
However, that does not enough to make her downcast.
In order to discourage her and let her know her current position, another humiliation starts under the name of discipline…
* Hatsujo Exorcist! : Another Story
Make that bumptious lady into a obedient pet!?
Ryusuke has been working on hunting for the devils with Seika the exorcist.
However, one day, her outrageous behavior become too much for him to bear.
Aome gives him an idea, and he plans to tame her as a pet!
Source: https://vndb.org/v7616
OPENING
–
GAME INFO
Japanese: LILITH-IZM07~俺のペット編~
Romaji: LILITH-IZM07 – Ore no Pet hen
Release date: 29/07/2011
Walkthrough
SHOTS