Cthulhu Kanwa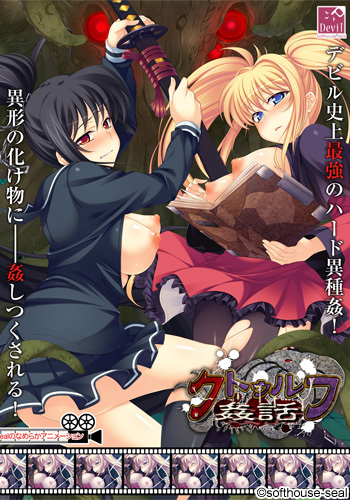 STORY
* Raped to madness—by the unspeakable! *
* H.P. Lovecraft invades the J-school ADV novel genre! *
Strong-willed girls refuse to surrender to the horror.
"Have you heard?"
"I have, I have, it's scary."
"It's some kind of creeping living apocalypse."
The class rumor was unbelievable.
Until I saw it with my own eyes…
"WHAT WH- WHAT…… WHAT ARE YOU—-!
GET AWAY GET AWAY OH MY GOOOAAAAAAAAAAAAAAAAAAAHHHH!!!!!!!!"
Ancients of the nameless grimoires are upon us.
Coils of twisted abhorrence, one thousand leering eyes.
Hastur, Nyarlathotep, Cthulhu!
Extractors of nerve, nightmare manifestations of the flesh beyond the feeble mind's reckoning!
Source: http://vndb.org/v14148
OPENING
–
GAME INFO
Japanese: クトゥルフ姦話
Romaji: Cthulhu Kanwa
Release date: 31/01/2014
DL Demo
Walkthrough
Save File
SHOTS