Makai Tenshi Djibril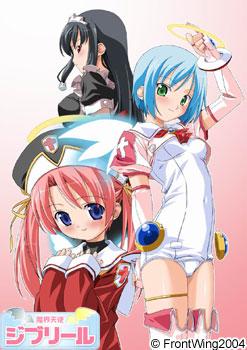 STORY
When summer break began, Jinno Naoto and Manabe Rika confessed their thoughts that they had since their childhood and began to go out. Suddenly a boy named Asmo appeared. He said he was a devil, and he tried to take Rika away. Naoto did his best to save Rika from Asmo, but he couldn't anything to do with devil's power. At that very moment, a girl named Loveriel, who called herself an angel, appeared and saved them.
Loveriel injured in the battle against the devil and they took her home with them. There, Loveriel told them surprising things; angels from heaven and devils from hell have been fighting for a long time, and that devils would attack them again.
Because Loveriel had lost her powers during the fight, she asked Rika to fight for her. On the other hand, the devil had also lost his powers in the fight. Meanwhile, Otonashi Meimi, who was a classmate of Naoto, witnessed Naoto confess his love to Rika, and she became jealous. Taking advantage of her jealousy, the devil haunted her and made Meimi into an evil heroine, Misty Mei, and made her attack Rika again. Just before that, Loveriel turned Rika into "St. Djibril" and let her fight against them.
Source: https://vndb.org/v760
OPENING
–
GAME INFO
Japanese: 魔界天使ジブリール
Romaji: Makai Tenshi Djibril
Release date: 23/04/2004
Walkthrough
SHOTS